Howdy,
That's what it is, a 200 in line six w/ a Garrett t3 "super 60" mounted to the engine. It has a Holley 2V which as been directly mounted the the intake, in place of the original 1 barrel. If anyone know the 200 that Ford made, it has it's intake integrated to the head (it is all one piece) and makes for really bad flow characteristics.
The turbo boosts up to 10psi, which is about right with 93 pump gas and not blowing head gaskets (which I found out the hard way). It utilizes a 2 1/2" down pipe into a single-in/dual-out muffler, which as an almost V8 sound at idle.
I run a Duraspark electronic ignition w/ an Accel high voltage coil. The total timing is 27*, with 17* base and 10* from mechanical.
The bronco sits on 33" tires (BFG MT's) and has @ 4" of lift.
It still uses the 3.03 3-speed manual tranny w/ the column shift.
Here are a few pics for ya: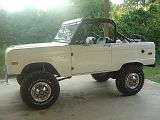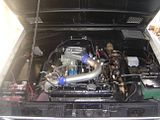 Have a good one.
Kirk Jorden