Hi all....I'll start by introducing myself.
My name is Martin, I live in The Netherlands and have driven my Camaro on LPG daily for over a year.
It is a dual fuel system consisting of a Holley 600 vac sec for running on gasoline and an OMVL vaporizer/mixer for LPG. Ignition is a HEI with high voltage coil. Engine is a 350cui sbc, Weiand manifold and headers followed by a Flowmaster dual 2.5" system.
I copied a part of my webpage
www.pro-touring.nl
to show what my conversion looked like.
Since fuel is very expensive in The Netherlands I changed to LPG (or Propane) because I wanted to use the Camaro as a daily driver.
The price of LPG is about 1/3rd of normal fuel.
On normal fuel consumption was 1 liter every 4,5km or 10.6mpg.
Normally fuel consumption on LPG would be more, but in my case it is actually less!
I think the carb was running a bit rich.
Now it does 1 liter LPG on every 5km or 11.8mpg.
I must say I like driving/accelerating fast, so maybe these numbers may seem high to some people.....
Probably with "normal" (slow) driving and a very well set carb you could get 1 liter to 6.5km or 15mpg.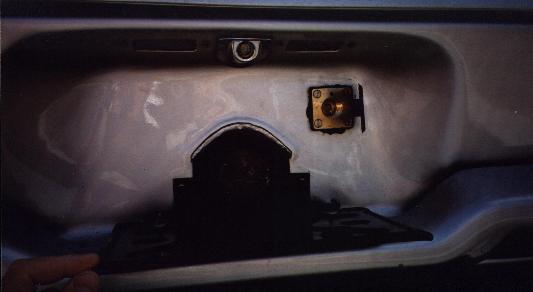 This is the filler cap which is located behind the license plate so it is not visible normally.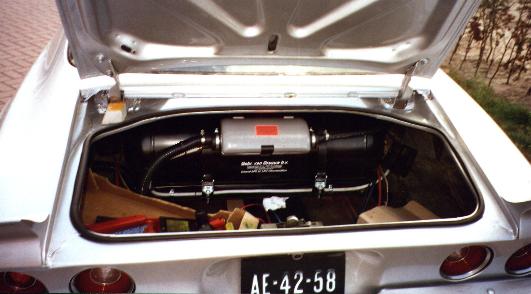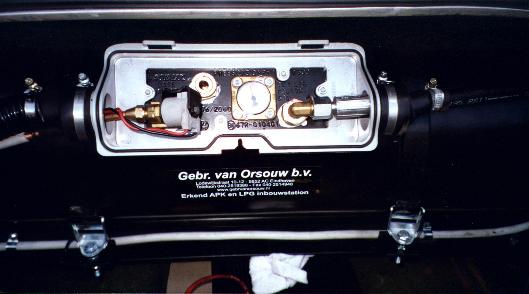 The LPG tank in the trunk is a 60 liter one and can be filled to a maximum of 80%.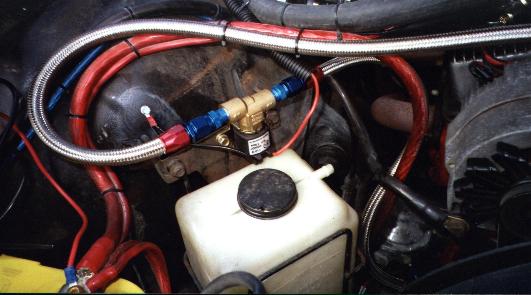 This is the fuel solenoid which shuts off the supply when running on LPG.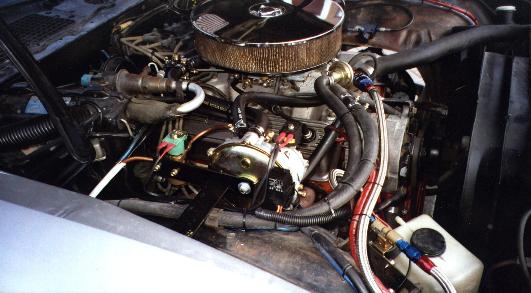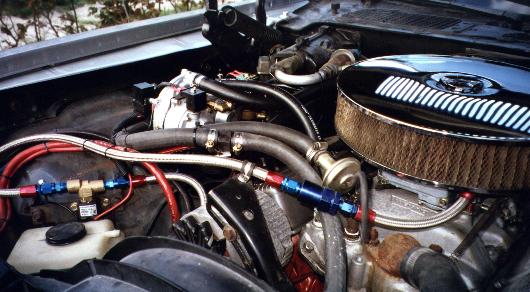 The vaporizer is mounted on the passenger side inner fender.
The engine coolant is used to heat the liquid LPG and transform it to gas.
Two feed lines bring gas to the mixer.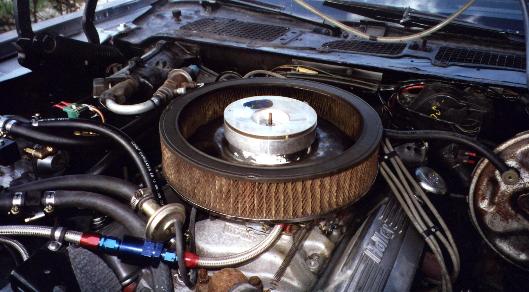 The mixer is mounted on top of the carb inside the air filter.
When running on LPG the carb only functions as a throttle body.
this is a full pic of the Camaro (actually running on LPG here)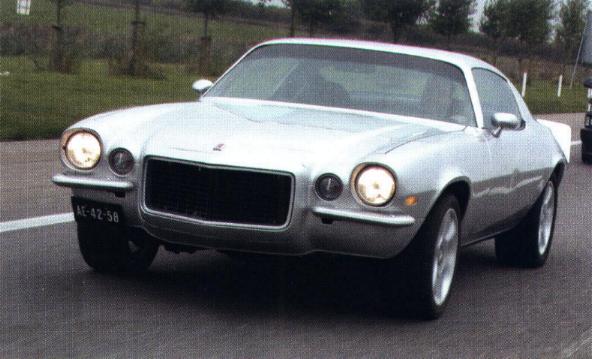 and I even have a movie that shows it's fast enough:
http://www.pro-touring.nl/camaro/martinscamaro1.wmv
disclaimer: closed track, professional stunt driver blablablabla
By now I have a new motor, a 400cui small block Chevy (10.5cr) which I will run on LPG only.
I have been thinking about it a long time and now decided to go 100% LPG. To get the most out of my engine I ordered a Technocarb mixer. The previous owner of this engine ran it with a OHG450 system and dyno'd it at 340HP at the wheels. (we made a testdrive before I bought it...WOW!!)
So I can't wait to finish my car and get it on the road again. I will make an update when I get the set up and running.